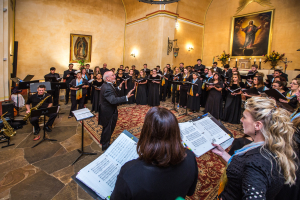 Join the Greater San Antonio Chamber Choir
San Antonio is a city of many talented singers. That's why we formed the Greater San Antonio Chamber Choir.
The Greater San Antonio Chamber Choir is a group of volunteer singers who will perform two music selections — "Summertime," arranged by Mark Hayes, and a Congolese folk song 'SI, SI, SI' — with the San Antonio Chamber Choir at the May 16 and 17 concerts.
We welcome singers across the city to join us. No audition is necessary, although singers will be selected based on space availability and choral experience.  Singers will be asked to perform at both concerts and will receive free admission. Singers are asked to wear colorful shirts, black pants and shoes to the performances.
If you'd like to join us:
1) Sign up using the online signup form here by May 1, indicating  interest, vocal experience, voice part and contact information.
2) By early May, we'll send a confirmation email. We'll email you a copy of the music, and ask that you learn your voice part in advance. An audio recording of each voice part will also be available.
3) We'll rehearse the day of the concerts. The Greater San Antonio Chamber Choir will join the other singers on stage towards the end of the concert.
May 16 – Carlos Alvarez Theater, Tobin Center – 6:00 p.m. rehearsal; 7:30 p.m. concert begins
May 17 – St. Mark's Episcopal Church – 2:00 p.m. rehearsal; 3:00 p.m. concert
We hope you can join us for this special musical event!