SACC's 19th Concert Season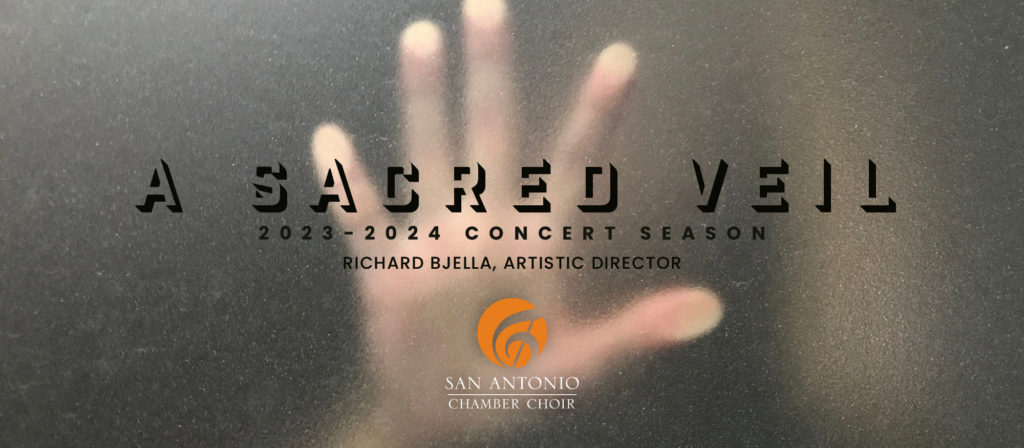 We pierce 'a sacred veil' whenever we are fully engaged in bringing forth the best in ourselves and the best in our sacred circle of friends, family, and beyond. Our 2023-24 season explores this through music that is considered both sacred and secular and many times crosses boundaries between those grounded clearly here on earth and also moments that approach the great beyond.
Our opening concert, The Thirst of Youth, explores five centuries of music through the genius of composers from William Byrd, Victoria, J.S. Bach, Beethoven, Lili Boulanger, Mozart, and Golovanov,
all of whom wrote fabulous music under the age of 26 years old. We have contemporary voices such as Joni Mitchell, Lennon and McCartney, Jake Runestad, Tarik O'Regan, and Eric Whitacre who touch the soul with compositions written in their early twenties. The concert will also feature a composition by 21-year-old Claudia Beroukhim from the University of Georgia. "i gained it so" includes text by Emily Dickinson and was selected from twenty-one compositions entered for consideration from all corners of the country. Our youthful bent is shared with two wonderful choirs; the UTSA Chamber Singers under the direction of Dr. Yoojin Muhn for the Saturday concert and Alamo Heights High School Chorale under the direction of David Short for the Sunday concert.
SATURDAY, SEPTEMBER 30, 2023
7:30PM • UTSA Recital Hall
One UTSA Circle, San Antonio, TX 78249

SUNDAY, OCTOBER 1, 2023
3PM • Travis Park Church
230 E. Travis St., San Antonio, TX 78205
Our holiday offering centers around the stunning, yet rarely sung work, Laud to the Nativity by Ottorino Respighi. He is best known for his Pines of Rome from 1910, but the Lauda per la Natività del Signore is a significant masterwork. It is, in effect, a large-scale Christmas carol with a chamber ensemble of flutes,
oboes, English horn, bassoon, and four-hand piano filled with suggestions of 16th-century madrigals, Monteverdian arioso, and other pre-Classical music. It is filled with beautiful moments that reflect Respighi's ability to observe and unfold the Christmas story with child-like radiance and yet rich significance. Also included are exquisite settings by John Tavener, Praetorius, Nelhybel,
Steven Sametz, and other contemporary voices exploring the mystery of nativity. We are pleased to have the Children's Chorus of San Antonio under the direction of Dr. Carolyn Cruse as our
guest ensemble for this concert. This concert is supported in part by the City of San Antonio Department of Arts and Culture.
SATURDAY, DECEMBER 16, 2023
7:30PM • The Chapel of the Incarnate Word
4503 Broadway, San Antonio, TX 78209

SUNDAY, DECEMBER 17, 2023
3PM • The Chapel of the Incarnate Word
4503 Broadway, San Antonio, TX 78209
Our May concert centers around Eric Whitacre's most recent major work, The Sacred Veil. This multi-movement work features a series of poems written about the librettist Charles Anthony Silvestri's relationship with his late wife Julie, her battle with ovarian cancer, and the grief he experienced as a result of her passing in 2005 SACC will also present the world premiere by Kyle Pederson;
Minneapolis-based composer, lyricist, pianist, and educator. Kyle was awarded the ACDA Genesis Prize in 2020 and the American Prize in Choral Composition in 2019. We will begin with one of
Josquin's most significant works that he wrote for his beloved teacher, Jehan Ockeghem after his death. Whitacre's extended masterpiece is followed by Pederson's commissioned work offered as a sacred gift to our community to all who have lost loved ones.
SATURDAY, MAY 4, 2024
7:30PM • Laurel Heights United Methodist Church
227 W Woodlawn Ave, San Antonio, TX 78212

SUNDAY, MAY 5, 2024
3PM • Basilica of the National Shrine of the Little Flower
824 Kentucky Ave., San Antonio, TX 78201