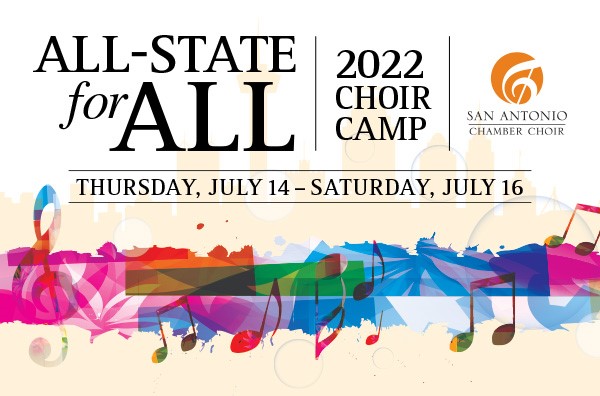 SACC "All-State for ALL" Choir Camp
The 2022 7th Annual All-State for ALL Choir Camp will host three days of intensive music-learning from Thursday, July 14 through Saturday, July 16.  This year's All-State for ALL Choir Camp will be in-person at Judson ISD Performing Arts Center (9443 Schaefer Rd, Converse, TX 78109).  Pre-registration is required and there are limited spots available.  There is a $150 tuition for this camp and it will include a shirt, meals, and music packet.  Choir Camp is held from 9:00am to 4:00pm each day with check-in starting @ 8:30am.
REGISTRATION is CLOSED now.   
SACC's All-State for ALL Choir Camp is a three day camp for learning the TMEA All-State music in less than one week!  The clinicians are all members of the San Antonio Chamber Choir and they focus on teaching both accuracy and musicality. 
REGISTRATION IS CLOSED!
Click Here to Donate in Support of the Camp Fund
For more information, please contact
Roland Barrera, Camp Coordinator
Click HERE to access the Registration Form to Print & Mail
Click HERE for the Camp Info Packet