Join us for our 2017 – 2018 season!
The San Antonio Chamber Choir offers a rich, professional musical experience for choral love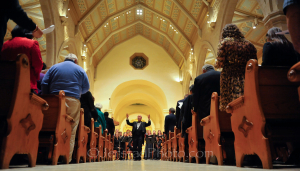 rs across South Texas. Come join us this season for our concerts showcased in the state-of-the-art Tobin Center of the Performing Arts and in other beautiful venues around San Antonio!
Mark your calendars for our concerts listed below.

San Antonio: Our Life, Our Music
As part of San Antonio's SA300 Tricentennial Events, the San Antonio Chamber Choir joins in a musical celebration of three centuries of life and music in San Antonio, presenting folk traditions and sacred works from the past and present. We will explore music that was popular around the time of San Antonio's founding as well as that which is embraced today. We are thrilled that local composer James Scott Balentine has written a new composition to mark this historic occasion.
April 14th  – 7:30 pm – Mission San Jose (free concert)
April 15th  – 2:30 pm – Central Library (free concert, and includes a performance by the Guadalupe Dance Company)
2018 All-State For ALL Summer Camp
July 23rd-25th

The SACC All-State for ALL Choir Camp is a low-cost day camp for learning the TMEA All-State music!  The clinicians are members of the San Antonio Chamber Choir, San Antonio's professional choral ensemble, and they focus on teaching both accuracy and musicality.  At the end of camp, you'll hear a free concert by SACC, then join them on stage to sing the All-State music for friends and family.  The camp will be held at Alamo Heights Junior School this year, July 23-25.  Register at http://www.sachamberchoir.org/about/all-state-for-all/
Past Concerts of the 2017-2018 Season
Only in Sleep
A kaleidoscope of dream life, featuring music felt in dreams concerning love, fear, fantasy, tragedy, friendship, and of the divine.  The program balances the old with the new; Carlo Gesualdo, JS Bach, Mozart, Haydn, Schumann, Brahms, along with contemporary composers Eric Whitacre, Ēriks Ešenvald and Einojuhani Rautavaara. Also featured in the concert will be the 2017 All-State For ALL Summer Camp singers, and the University of the Incarnate Word Cardinal Chorale, directed by William Gokelman.
September 23rd,  3:00 and 7.30 pm – Rotunda of the Tobin Center for the Performing Arts
September 24th – 3:00 pm – University of the Incarnate Word Concert Hall
The Mystery of Christmas: Jazz and the San Antonio Chamber Choir
Celebrating 100 years of recorded jazz and choral music of the last 1000 years. With music from Hildegard to Brubeck and far beyond, we celebrate the joy of Christmas with our guests, the Jazz Protagonists, fully integrated into the program for a mix of sacred and secular. Also featured will be the North East School of the Arts Dancers, and (local high school choir).
December 16th, 7.30 pm –Leeper Auditorium, McNay Art Museum (Tickets MUST be purchased in advance. No ticket sales at the door.)
December 17th, 3:00 pm – Alvarez Studio Theatre at the Tobin Center for the Performing Arts
A Spiritual Awakening
This is a one-hour love fest with our most beloved spirituals of all time will feature many of our great singers. Arrangements from some of the world's best will be performed: Moses Hogan, William Dawson, Undine Moore, Jester Hairston, Andre Thomas, Hall Johnson, Stacey Gibbs, and many more. This concert is offered free to the public.
January 13th, 7:30 pm – San Fernando Cathedral (Free concert)
Psalms in Song
Presenting choral psalm settings from all corners of the world.  This concert promises to have something for everyone who loves the psalms and their wonderful prose set to the best choral music through the ages.  Featured will be the First Baptist Church Sanctuary Choir, Dr. Aaron Hufty, Associate Pastor, Worship and Music, and the Greater San Antonio Chamber Choir.
January 20th, 7:30 pm – Basilica of the National Shrine of the Little Flower
January 21st, 3:00 pm – First Baptist Church San Antonio